Hello and welcome to the
Tift County, Georgia GAGenWeb page.
This website has been created in conjunction with the USGenWeb Project. This project is a well mobilized effort to organize genealogy material on the Internet for free use by the public. Basically, the system is organized by states and counties, with each county having a coordinator responsible for maintaining a site of resources which are available for that county. This Tift County site is a part of the GAGenWeb Project. The sole purpose of this site is to be a repository of genealogical information about the former citizens of Tift County, Georgia.
Much work is needed to build this site and its accompanying databases. If you would like to volunteer your time in helping with the many projects within this site, if only for an hour a week, please send me an email. If you have information pertinent to the history of Tift County or concerning its citizens, please feel free to email me with the specifics. Most any data that falls in the realm of public domain type documents would be welcomed. The greatest amount of work will be involved in the transcription/ submission of data such as the Federal Census for Tift County, cemetery audits, wills, probate records, biographies, etc. While some of this information is contained on microfilm or in other form at the local Tift County Library and would consist of someone transcribing it to this website, other info may require more elaborate look-ups.
NOTE: This site has a mailing list associated with it. Click here to see more info about the list.
---
History of Tift County
The land now comprising Tift County, GA was once the hunting grounds of the Lower Creek Indians. It is the opinion of some historians that these Creeks descended from migrating tribes from the west and were in this area prior to the arrival of Hernando DeSoto in 1540. Following the Spanish came the French and then the English. While James Oglethorpe is credited with the "founding" of Georgia in 1733, few of these early pioneers were involved in the settlement of south-central Georgia, commonly called the Wiregrass. The settlers of the Wiregrass in the late 1700's and early 1800's were primarily immigrants arriving in the Mid-Atlantic states and migrating south through the Carolinas into Georgia.
In 1803, the Land Lottery Act was passed which provided for the survey of new lands, the division into equal lots and the numbering of these lots. In 1818, the Georgia Legislature created three new counties in the southern most portion of this land. They were Early to the west, Irwin in the middle and Appling on the east. It is in the original Irwin County that Tift County would later be formed. A map showing the relationship of the current counties to the 1820 Land Districts can be seen here.
By 1870, many small communities and towns had sprang up as a consequence of the development of railroads in this area. The main reason for the railroad, the shipment north of local farm commodities, lumber and naval stores (turpentine). It also brought settlers into the area. One such pioneer was Henry Harding Tift, a railroad machinist. Having been persuaded to come to Albany, GA by his uncle, Tift moved east in 1872 to the area currently known as Tifton where he built a sawmill and commissary. It is from these humble beginnings that Tifton and Tift County was formed. On August 16, 1905, the Georgia legislature passed a bill creating Tift County, formed with almost equal portions from the then Worth, Irwin and Berrien Counties.
For a more detailed account, I refer you to the History of Tift County by Ida Belle Williams from which the above was compiled. Several copies are available at the Tifton - Tift County Public Library.
---
Cities and Towns Within Tift County (communities)
| Tifton | Chula | Ty Ty | Omega | Brookfield | Eldorado | Unionville | Phillipsburg | Harding | Kelltown | Docia | Excelsior |
---
Neighboring Counties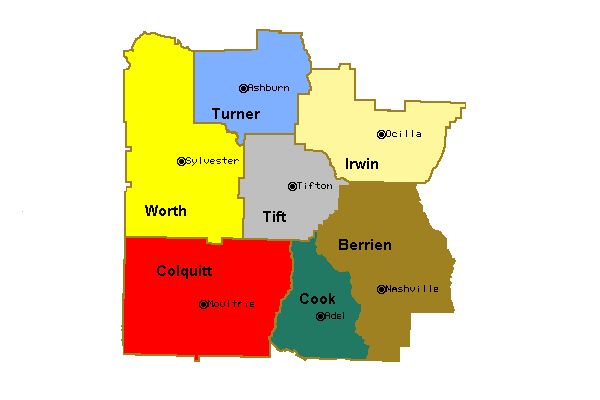 | Worth | Colquitt | Cook | Berrien | Irwin | Turner |
---
Local Addresses:
---
State Addresses:
---
Links:
---
Civil War History Links:
---
Historical Documents:
---
Military:
| | |
| --- | --- |
| WW II local hero - Robert B. Powledge grave in The Netherlands. This site has been created by Jacki Jonas, GAGenWeb coordinator for Colquitt Co., GA. Many thanks to her for allowing us to link to her site. | |
---
Personal Genealogical Links:
---
This website is maintained by Roger Nalls, GAGenWeb County Coordinator for Tift County, GA. If you would like to volunteer to help with this project or submit materials for possible inclusion on this website, please email me. If you would like to adopt a county of your own, please refer to the GAGenWeb Project or contact Linda Blum Barton, State Coordinator GAGenWeb Project, Trish Elliott-Kashima, Assistant State Coordinator or Dan Clark, Regional Assistant. I welcome your comments about this website and your suggestions for improvement.
---
Tift County GAGenWeb Site Search
This search engine does not search the archives. If you want to search the archives, click Archives and then go to the search engine at the bottom of that page.
---
You are visitor number
since the counter was installed on July 10, 1998.
Many thanks to Rootsweb for providing server space for this site.